Unnamed Game About Spaceship Fighting.
A downloadable game for Windows
(This game is in early access and it is under development, next build coming soon. Also, the name of the game may change in development).
Ready for some fun with your friends???
If your answer was yes, you're in the right place... or page. (Stick around if it was a no, you may like this).
Unnamed Game About Spaceship Fighting is a small top-down 2D game, where you fight your friends in an arena or in space with a spaceship, duh.

Currently, the game is under development and will feature many weapons and scenarios for you to enjoy destroying your comrades... or enemies, that is, assuming you keep them close enough to your couch.

If the game gets enough attention, there's a possibility that I'll implement online connection, so you can play with your friends even if they are on another couch.
This game started out as a small flash project I did to study for a programming test since then I've shown it to some people and play tested its earlier version and they liked it.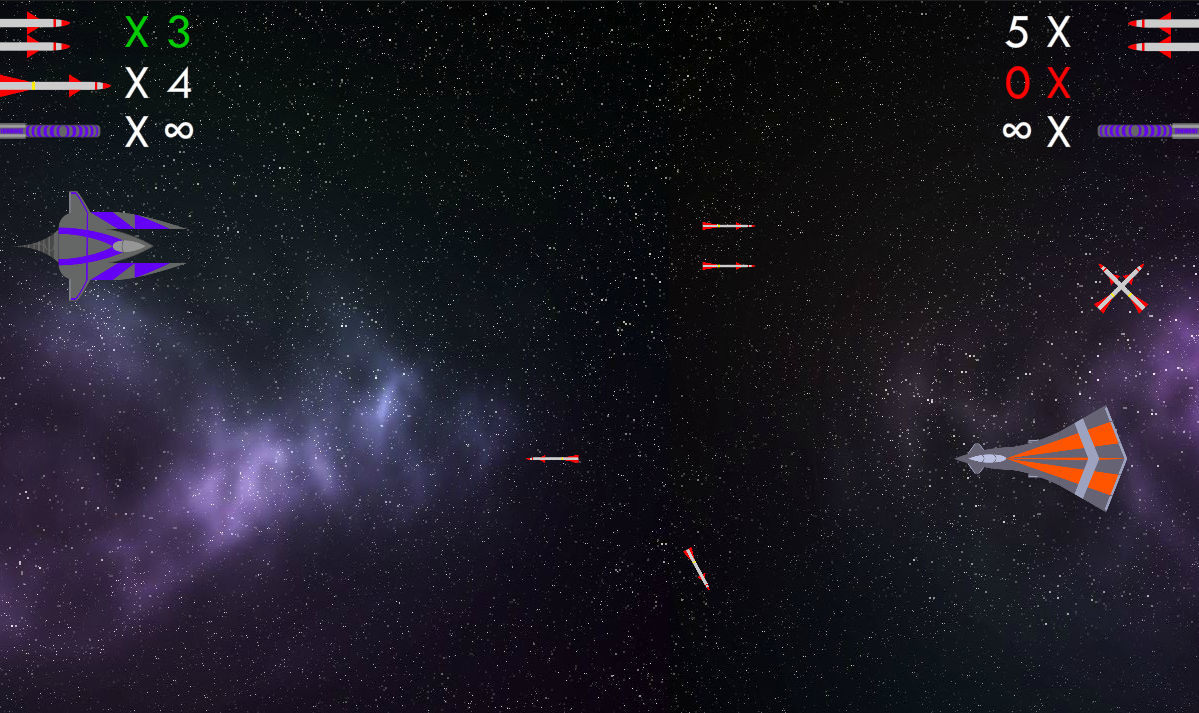 The old version of the game. This is what the game looked like in its earlier flash form, I still have the SWF file, maybe I'll upload that too.

So after giving up in doing it on Action Script and learning a new language/engine, I decided to make a small more refined version of the prototype and open a page for it here on Itch.io, and this page will decide the fate of the project.
Being a solo developer, it takes quite a lot of time to make a game, so I'm going to develop a small version of the game, and maybe add some content to it during some weeks in my free time, even if it does not sell or gets attention. However, if people want the game and like it, I will then proceed to expand it even more and make it a full release version with quite a bit more content.
Here are some of my plans for the final version of the game:
More weapons. Ex: Cannons, various kinds of missiles and more cool stuff (like energy weapons, nukes and even community created weapons).
Add power-ups and items. Ex: A drone that you can deploy, a time bomb and a friendly alien you can call.
Weapon improvement power-ups. Ex: An item that makes you shoot explosive, corrosive or electrified bullets/lasers/plasma.
An online connection so you can play with your friends that are far away.
A levelling system, so you can buy/get upgrades and some other cool rewards. Well, and also brag about it with your friends.
A short single-player story told through the arena fights.
Make it super juicy (A.K.A. add tons of explosions and effects).
Add support for various controllers, not just the XBOX, but also DualShock and other common devices. Also, add the option to change input buttons and other things that help with accessibility.
Cool HUD-like UI for the game, so you'll feel like a pilot or something like that.
Custom match settings, so you can choose the time limit and points to win as well as some other fun stuff.
F.A.Q :
Q. I've found a bug/error or something is not working.
A. Please, leave a comment below or send a screenshot with a short description of what happened and how to get to the error (if possible) to (add contact here).
Q. How do I play?
A. You will need at least a keyboard and a controller (preferably an XBOX controller, I will list the buttons with it as a reference), but you can play with two controllers as well. Inputs are as follow, WASD and arrow keys or the joysticks thumb sticks for moving and aiming. Space bar or right bumper on the joystick to fire and left shift or Y to change weapons. Start, pause/break or escape will pause the game if you're in a match. (I've written this here since the tutorial/commands section isn't ready).
Q. Is this game under development?
A. Not actively, for now.
Q. When will it be ready?
A. Who knows?

Q. I liked your game, how can I support the development?
A. First of all, thank you. Second, the game is free for now, but you can donate whatever you want to, don't need to feel obliged to. Everyone who donated will be featured in the game credits (as a thank you and so you can show your relatives your support for the cause).
Q. Can I make a video about your game?
A. Yes, you can. Just be sure mention what game it is and/or to credit me.

Q. Can I play the game online with a friend?
A. Yes, sort of. At the moment the game only supports local multiplayer, however, you should be able to play online using services such as 'Parsec'.
Download
Click download now to get access to the following files: